Development background
"People can change"
This is something I have come to believe through my study and practice of people analytics.
I was close to the bottom of my class at the French graduate school INSEAD, where students from 70 countries attended. However, within my human resource class (now called people analytics), with 360-degree feedback from my friends around the world, I had a revelation. With this harsh, yet fair, feedback, in addition to allowing me to take a better look at myself, it lit the way for my future.
Since then, while leading talent from around the world at a company based in San Francisco, I adopted cutting-edge HR tech solution such as competency education and data-driven recruitment. Through the experience, I have seen how people grow, and how both companies and society have changed.
Using our experience, toward Society 5.0, IGS will support the human resources and organizations that live through the unpredictable times scientifically by providing an accurate assessment and appropriate education.
Business
Cultivate and Assess human resources for Society 5.0
Humans upgrade themselves throughout their lives to respond to the demands of the times. The education and assessments we receive from ourselves, friends, and society becomes a catalyst for the growth. As we are facing a turbulent change in society such as Society 5.0 and COVID-19 at this moment, IGS provides the assessment and education solutions that are required in this new era.
Our development solutions "GROW Academy" provides youths with the basis for the competency required in Society 5.0 while "DxGROW" is a corporate training supporting organisations to successfully in Society 5.0.
Our assessment solutions "Ai GROW" and "GROW360" uses the same criterions, adjusted to each age, to assess individuals in schools or organisations.
"Assessment" and "Training" suitable for all ages in the world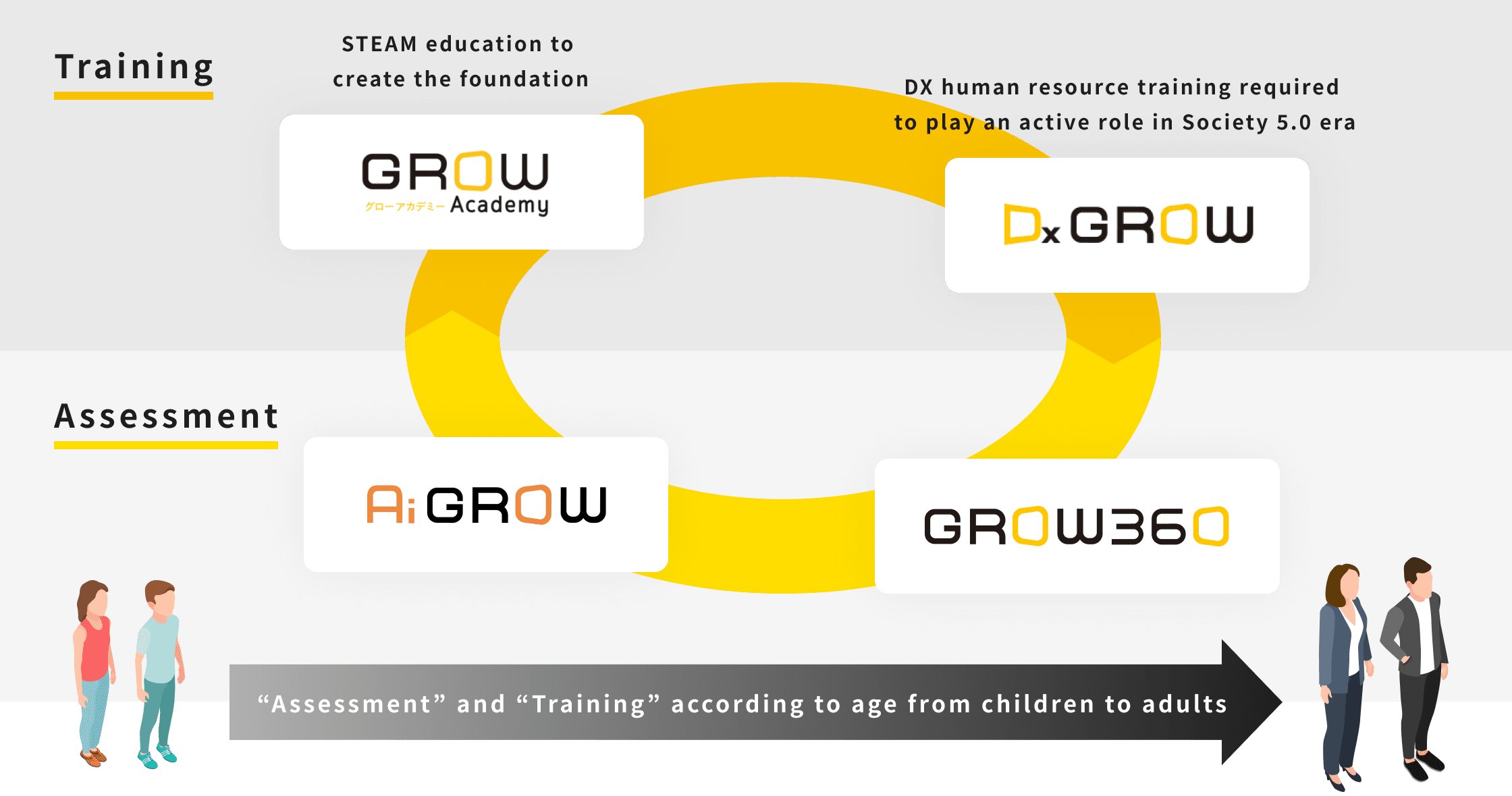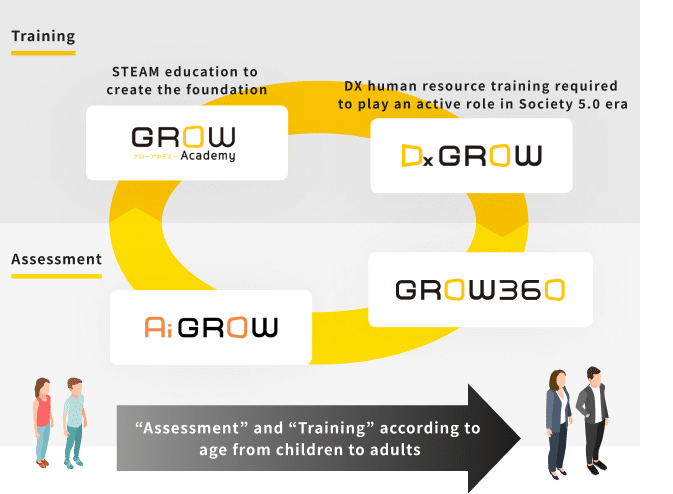 What to assess, and what to educate
Based on the scientific research, we support the enhancement of individuals' ability by assessing based on the requirements in Society 5.0. To be more specific, we assess the personality traits based on Big 5 Personality Traits theory, competencies and skills, and biases that hinder one from performing at one's full potential. To improve competency and the individuals' skills,
we provide educational content that can be helpful.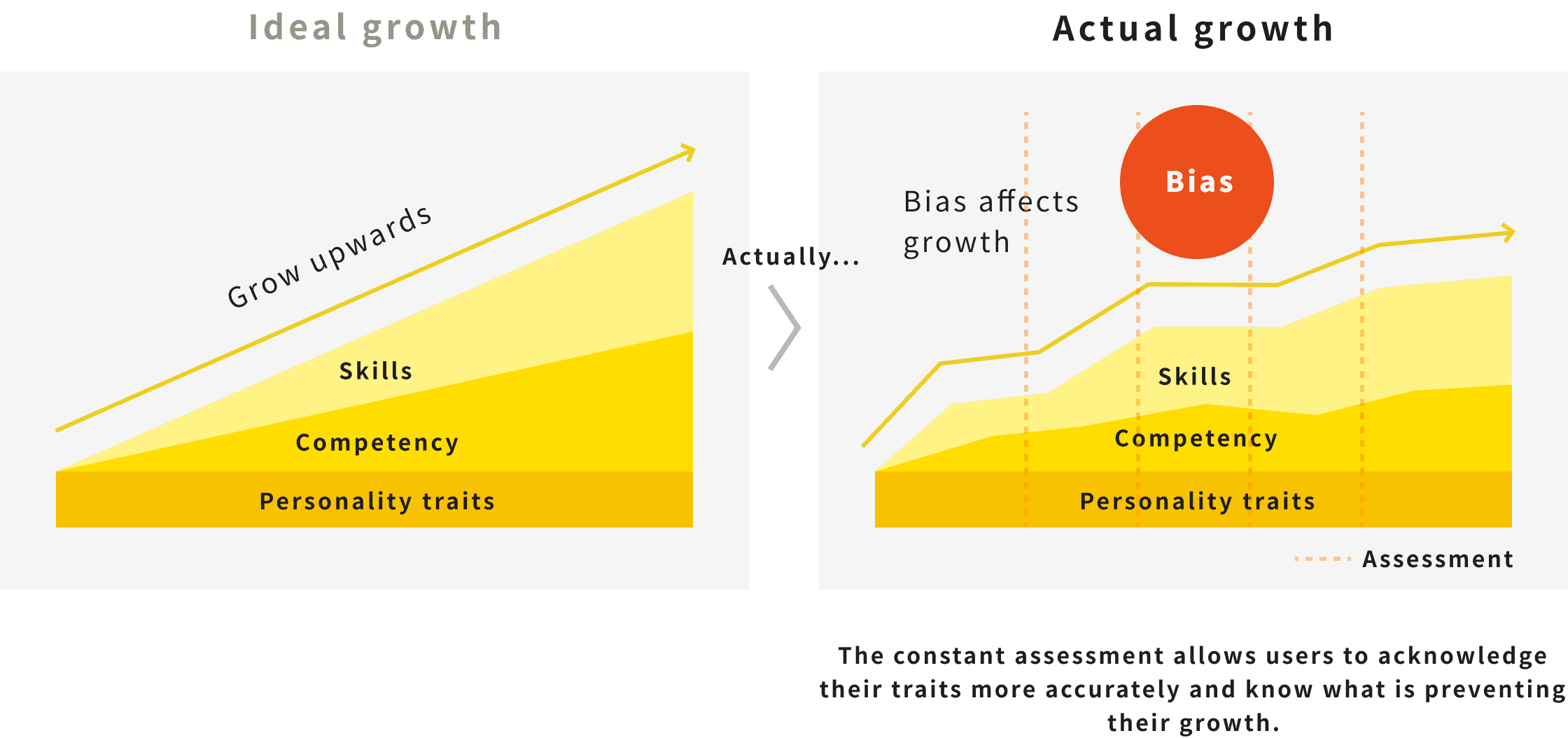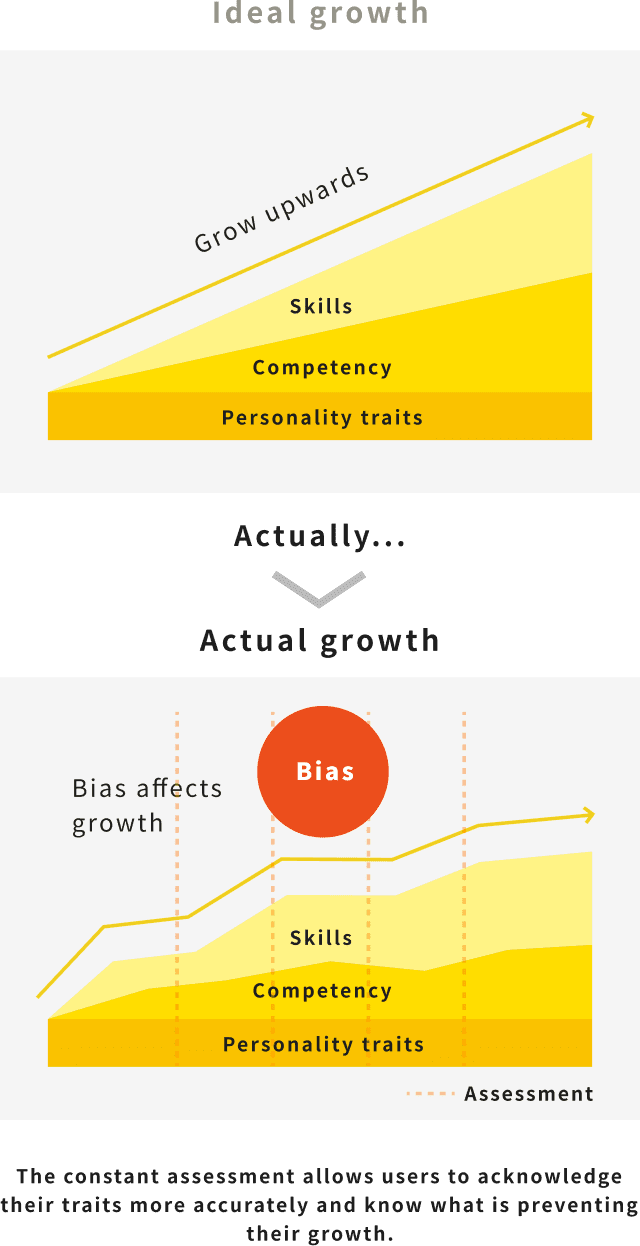 Personality traits

A born personality that even the person themselves aren't aware of, based on BIG5

Competency

25 behavioral characteristics that are unique to each individual such as creativity and task setting for succeeding in Society 5.0.

Skills

Information Technology Literacy, Knowledge, and Skills such as STEAM (Science, Technology, Engineering, Art, and Mathematics), as well as the expertise of certain skills that are peculiar to a company.

Bias

Prejudice and intuition that lead to irrational decisions.
Our technology
It is very challenging to make an objective assessment, and it requires an advanced technology based on the latest scientific knowledge and theory. Using academic knowledge/information with patent, IGS provides the service.
Implicit Association Test(IAT)

Assessment items:Personality traits (Big 5 factors), Intrinsic bias

Using the cognitive bias measurement used in an international organization, it measures the potential traits that the person cannot take measures nor recognize.

Patent:To provide a subconsciousness estimation system, the subconscious estimation method and a subconscious ESTIMATION PROGRAM

Patent number:Japanese Patent No. 6161097

360-degree feedback

Assessment items:Competency and Skills

Not only limited to self-assessment, but there is also 360-degree feedback to assess competency and skill. Since external assessment has a room for 'sontaku' (conjecture), we use bias-free algorithms to ensure a reliable set of data, based on the time it takes for the external assessment.

Patent:The personnel evaluation system, personnel evaluation support method and evaluation support program

Patent number:Japanese Patent No. 6589257
Related papers:
・Bernstein, E., McKinnon, P., Yarabe, P., "GROW: Using Artificial Intelligence to screen human intelligence", Harvard Business School, N1-418-020, August 2017.
・Iwasawa, A., Fukuhara, M., Roudier, F., Kohtake, N., "Competency Evaluation Applied to Human Resource Development Program Designed to Solve Social Issues using Space Applications", 31st International Symposium on Space Technology and Science (ISTS), June 2017.
For businesses

GROW360 is an AI enabled assessment solution that scientifically measures the competency and the traits of the official/prospective organisation's employees. GROW360 provides optimal Organization Development and Predictive Recruitment solutions, for Large Corporations, Public Institutions and International Organisations. GROW360 is also utilized in the scenes of training/promotion/optimisation of employees in an organization.

For schools and educational institutions

Ai GROW is an assessment tool for educational institutions to quantify the ability, qualities of the students, and the effect of education. Along with the assessment of the class and for career education, it can also be used to design a better curriculum.
For businesses

Resistances to Digital Transformation projects often relate to managers' or employees' intrinsic biases against DX, or "DX biases". Studies show that most of us have anxiety or negative assumptions about DX, which induces biased decision-making related to Digital Transformation projects. The utilization of Bias visualization and behavioural assessments tools, combined with the appropriate HR development strategy - focusing on a large span, from Mindset transition to basic technical skills and literacy - is a highly relevant approach to implement an "Aggressive DX" strategy and helps organisations increasing global competitiveness in the context of Society 5.0.

For schools and educational institutions

GROW Academy is a next-generation video content that achieves competency-based education. By deepening the thoughts of the students and collecting/using the data accurately, we provide a framework to enrich the presentations of the students.
This service combines free reskilling and recruitment. It incorporates a "solidarity contribution system" that utilizes blockchain technology to provide reskilling at no financial cost to the learner. IGS participates in the ONGAESHI project team and is responsible for project management and service development and operation.